Yale has increased its partnerships with New Haven to build a stronger community. New Haven is a great city in which to live, work, and study. New Haven has numerous strengths and significant potential that most other cities would find enviable. It has strong neighborhoods with good housing stock and wonderful parks and open space, including a beautiful and historic green at its heart. New Haven is physically appealing, with inspiring architecture. The city's scale is human and the seacoast is minutes away. It is a 24-hour city, with 12,000 downtown residents. As Yale President Rick Levin has noted: "New Haven is large enough to be interesting and small enough to be friendly."
New Haven is rich in culture, boasting two nationally-recognized repertory theatres, major summer festivals, three symphony orchestras, the rich heritage of the Shubert and Palace Theatres, and Yale's museums of art and natural history, which all together attract audiences of more than 2 million. New Haven is the region's center for medical care. The city is a center for biotechnology, a field as potentially important this decade as information technology was in the last.
Like every city, New Haven faces opportunities and challenges that require the private sector, government, neighborhood groups, and nonprofit institutions like Yale to build on the city's strengths and continue the progress made in recent years. There is good reason to remain optimistic about New Haven's future. Neighborhood block watches are active and community-based policing remains strong.
Yale, under the leadership of President Levin, has expanded its efforts to promote economic development, increase homeownership, support public education, and revitalize downtown. Yale is proud to be a part of New Haven's growth and increasing strength. The pages that follow describe, in brief, some ways in which the University is working for a stronger community.
Yale & Economic Development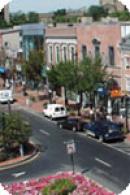 A strong economic base to provide jobs for and tax revenue is essential for a strong community. Yale helps achieve this goal in New Haven in many ways. Perhaps most important is that Yale is one of the nation and world's leading centers for life sciences research. The University annually draws $400 million+ from the National Institutes of Health and other sources for basic scientific research. Yale has increased its efforts to develop the enormous economic development potential of this field and its work is complemented by a robust private sector, including major divisions of Bayer, Bristol-Myers Squibb, Pfizer, and Boehringer Ingleheim nearby.
The pace of new company formation has quickened, with dozens of business plans in development. In the last three years, Yale biotech spin-offs have raised more than $3 billion in the public and private capital markets. Over the past decade, this research has resulted in:
40 new business ventures. The vast majority remains in Connecticut and the New Haven area. Current businesses include:

Alexion Pharmaceuticals
Analytica of Branford
Apfel Enterprises
Chart-Links, Inc.
Cellular Genomics, Inc.
IPTEX.com
Clinipad Corp.
CPP, Inc.
Curagen Inc.
David B. Cole Associates
Fast Mathematic Algorithms & Hardware
Genaissance Pharmaceuticals
Health Services International
Intelligent Business Systems
Jet Process Corporation
MCG International, Inc.
L Diagnostics
TransMolecular, Inc.
MGS Inc.
Omega - P
Molecular Staging, Inc. Phytoceutica, Inc.
Precision Combustion, Inc. Reflexits Corp.
Roots Inc.
Scientific Computing Assoc.
Senatics Corporation
polyGenomics, Inc.
VION Pharmaceuticals

20 biomedical/pharmaceutical firms
Yale has joined the State and City to develop laboratory and other necessary space in the city at locations such as Science Park and the new 300 George Street technology center.
Yale & Neighborhood Revitalization: Increasing Homeownership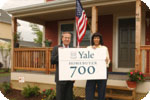 Homeownership is essential to stabilize neighborhoods and help families create wealth. Affordable homeownership helps neighborhoods retain prospering families, support existing residents, and attract new residents.
To encourage increased homeownership, Yale established the Yale Homebuyer Program in 1994. It offers any regular Yale employee - from faculty to maintenance to clerical to management - $25,000 ($5,000 at closing and $2,000 annually for ten years) to purchase a home in several neighborhoods. The Yale Homebuyer Program has had a marked impact on the number of home purchases in New Haven:
Yale has funded more than 925 employees who purchased homes since 1994.
50% of participants are minorities and 80% in recent years are first-time homebuyers.
Yale's commitment of $25 million yields over $125 million in home sales.
Yale has partnerships with community groups in neighborhoods such as Dwight, Dixwell, and the Hill, among others, to increase homeownership and economic development. In Dwight, for example, Yale secured $2.4 million from HUD. These funds leveraged matching funds and in-kind contributions of $2.8 million from Yale and $3.2 million from other funders. These resources have led to:
The creation of the Greater Dwight Development Corporation to lead neighborhood renewal.
The design, by the Yale School of Architecture, of expansion space for the neighborhood elementary school, with the construction paid for in part by the funds raised by Yale from HUD.
The development of a shopping center with Shaw's Supermarket, with $300,000 of pro bono services from the Yale Law School as counsel to the GDDC.
In the Hill, Yale works the Hill Development Corporation (HDC) and other neighborhood partners to promote increased homeownership. HDC is working rehabilitate homes and sell them to first time homeowners, including employees recruited by Yale and the Yale-New Haven Hospital. This homeownership initiative builds off of other HDC efforts that Yale has participated in, including a 60-unit affordable rental project at three neighborhood sites that opened for occupancy in 1999.
Yale & Neighborhood Revitalization: Strengthening Public Schools

Strong public schools are essential for a strong community. Among the many collaborations between the New Haven Public Schools and Yale are: 
The Yale Schools of Medicine and Nursing work with the Hill Regional Career High School. Yale faculty and students teach at Career and offer a summer science program at Yale. More than 200 high school students spend up to 800 hours in Yale labs, lectures, and internships in their sophomore, junior, and senior years.
The School Development Program of the Yale Child Study Center, one of the nation's foremost school reform efforts, works with 700 schools in 32 states. Developed in 1968, it creates learning environments that support child development. New Haven Public Schools have made SDP a foundation of school reform.
The Bush Center in Child Development and Social Policy helps improve the lives of America's children through its model "Schools of the 21st Century." Bush Center staff work with New Haven in Headstart and childcare programs.
The Yale-New Haven Teachers Institute offers New Haven teachers the opportunity to study on campus with Yale faculty to develop curriculum. More than one-third of middle and high school teachers in the sciences and humanities have participated.
At the Program in International Resources at the Yale Center for International and Area Studies, New Haven teachers join teachers from around the world for two-week Summer Institutes in International Studies, Russian and East European Studies, African Studies and East Asian Studies. The PIER Teaching Resource Collection offers 1,500 audiovisual items and 5,000 print items for free loan.
Yale School of Music faculty and students give lessons to Coop Arts and Humanities High School students and help teachers incorporate arts in the curriculum.
Yale's museums have extensive public school programs. More than 10,000 students use the Art Gallery, Center for British Art, and Peabody Museum each year.
Through the America Counts and Youth Reading Corps programs, Yale places over 100 undergraduates who tutor one-on-one with every third grader at Dwight Elementary School as well as with students at Wexler Grant and Fair Haven Middle School.
During the summer, more than 600 New Haven young people participated in free, full-day academic and recreation programs at Yale, including U.S. Grant, and the National Youth Sports Program.
Over 50% of Yale's 5,000 undergraduates participate in community service during their Yale careers, often with young people and the public schools.
Each year, 40 New Haven high school students take regular Yale College academic courses on campus for credit and for free.
In January 2000, Yale added its resources to those of SNET and the New Haven Free Public Library to open the Stetson Branch Technology Access Center in Dixwell, which has led to an increase in library use of more than 100%.
In January 2006, Yale opened the Dixwell-Yale University Community Learning Center, which has a community room that seats 50 people as well as a computer lab with 16 computer stations where New Haven youth can learn from Yale students. Additionally, the Learning Center has a storage room for sports equipment to be used in the nearby neighborhood park.
Yale & Downtown Revitalization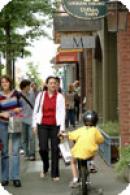 Downtown is the heart and soul of any city. Yale has been at the center of New Haven since the early 1700s and today, more than ever, the University is working with the City, businesses, and residents to build on downtown's many strengths. Yale's investments include: 
Chapel/College Street FDIC-foreclosed Properties: $8,500,000 With City encouragement, Yale invested in key downtown properties to keep ownership local and the district intact and is now investing in repairs to keep the district vibrant.
Broadway District Improvements: $8,000,000 The City and Yale secured federal funding for infrastructure improvements to this important intersection of campus and community. Yale has invested additional funds for facade and streetscape improvements and for a new retail building that will offer high-quality space for existing local and new national retailers, bringing more jobs and taxes.
Downtown retail and marketing: In its taxpaying retail properties, Yale provides space to more than 80 local merchants and five national retailers. The University works actively with the City and local business groups to attract, retain, and market downtown. Together with the City and the business community, Yale has helped create Market New Haven Inc. and committed $250,000 a year over three years to this concerted, strategic marketing initiative.
Arts and culture: Shubert Theatre, Jazz Festival, International Festival of Arts and Ideas: Yale has been a lead sponsor of facilities and events, like the Shubert and the International Festival, which bring hundreds of thousands of city and suburban residents to downtown. Yale has invested in its own arts facilities, such as the art museums and the School of Drama, which altogether attract 400,000 visitors a year.
Town Green Special Services District: Yale joined the City and businesses to create this organization that provides enhanced maintenance, hospitality, and safety. Yale pays $100,000 a year in taxes and direct grants.
Ninth Square Redevelopment:Yale joined the State and City in this mixed-use retail and residential project. The residential portion, with more than 300 downtown living units, is full and the retail has been filling up with restaurants, turning the area into a major destination.
The former JCC building in the Chapel West District was vacant and abandoned for a decade. To promote greater campus/community interaction and create a new home for the School of Art, Yale has rehabilitated the building, which draws hundreds of people to a key block, boosting Chapel West retail.
More Information
To learn more about Yale University's partnerships in New Haven, please visit the website of the Yale University Office of New Haven and State Affairs.