Deadline for Agency Applications: Friday, November 8, 2019 by 5PM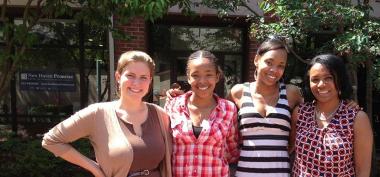 Yale University seeks placements from nonprofit and public sector agencies in the City of New Haven for the 2020 President's Public Service Fellowship. The Fellowship was established in 1994 as part of Yale's expanded partnerships with New Haven.  It provides full funding for Yale students to work full-time during the summer in New Haven.  More than 800 Yale University undergraduate, graduate, and professional students have contributed more than 350,000 hours of community service to New Haven nonprofit and public sector agencies as President's Public Service Fellows since 1994, and Yale anticipates placing up to 30 students in the summer of 2020.  
New Haven nonprofit and public sector organizations may submit a proposal for a placement that addresses their priorities and strategic plans and that provide substantive work for Fellows in the city of New Haven.  Work must benefit people who live and/or work in New Haven, and the organization (as well as the work of the PPSF Fellow) must be located in New Haven.  As Yale seeks to support ongoing, strategic partnerships to strengthen New Haven, we will give particular priority to placements that promote:
Economic development
Neighborhood revitalization, especially increasing homeownership
Education and programs for youth
Downtown vitality
Yale University will review submitted proposals and then select those to be publicized to interested student applicants on the PPSF website.  Please note the actual number of placements is limited.  Not all proposals will be chosen as potential sites to which students may apply, and not every placement will be filled.  Placements with clearly developed projects and goals will be of most interest. Organizations should submit a proposal for a project that has a likelihood of being completed during the course of summer.  Yale will pay Fellows directly but any other project costs (i.e., transportation, materials, office supplies, etc.) are the responsibility of the organization.  Job responsibilities that might carry specific requirements like having a car should be clearly noted.
Information, including an application and a description of the application process and agency selection criteria, please read the following document: Agency Instructions and Application (Microsoft Word format).